The acoustical sound absorber is a newly launched exciting product that was never heard before in the aftermarket auto industry if we talked about sound dampening and absorption. Being an OEM approved and MVSS302 tested & passed product, this is an effective product installed on the assembly production line of 1 of the top three auto manufacturers in the United States. The product has been designed and tested as a multi-layered solution for sound damping and acoustic sound absorption.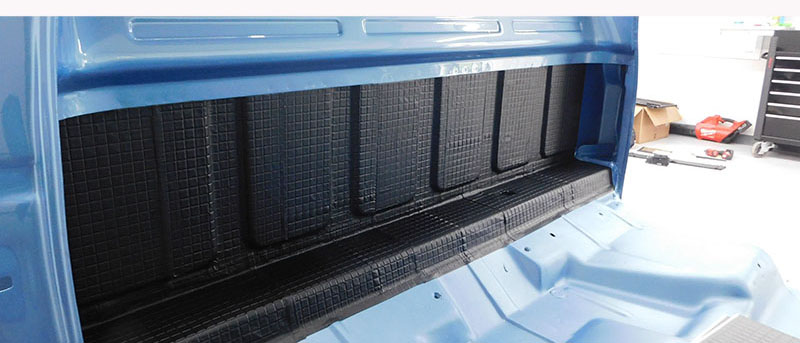 This product is the combination of butyl and unwoven polyester being manufactured to fit on the back wall as a one-piece solution to absorb unwanted sound from within the car, such as metal vibration. The 7 mm acoustical absorber helps to insulate the car interiors and exteriors to inhibit vibrations and acoustic sound. Installing the same under the headliner gives effective results.
It's pretty easy to install 7mm Acoustical Absorber; the reason being it is quick thick and can be effectively placed on the critical area just because it is a multi-layered solution for sound damping and acoustic sound absorption. With sheet size 17″x14" and being self-adhesive, you can easily place the same on the back wall as a one-piece solution. Being new in the market, it's a bit expensive than other sound dampening and acoustical sound absorption products.
Vibrosolution is one such brand that meets your requirement. With 9 sheets available in one box with a thickness of 7mm, you can install the sound dampening and acoustical sound absorber mat. It can be placed anywhere in the vehicle, be it is next to the headliner or the metal flooring, or in the back wall. Just get it done to perfection and then see the results. As it is a multi-layered product, you will get effective results compared to what to be delivered in a single layer. You can buy a 7mm acoustical absorber that comes with 15 sq ft per box.
Car headliners have a vacuum, and they can be filled with sound absorber mats that help absorb sound deflection. The brand acoustical absorber has more to offer when we talk about it as it is multi-layered and quickly absorbs the sound that comes from vibration and from outside. You can now enjoy the quality performance of a car audio sound system
Is It Feasible to buy a 7mm Acoustical Absorber?
This question has its meaning, the reason being the 7mm Acoustical Absorber you're planning to buy new in the market, and very few dealers have a stock of the same. As it's said to be the effective sound Dampening and acoustical sound absorber, it will be in massive demand in the upcoming time.
As you might be thinking to check the dealers in the marketplace, going out is not a wise idea with the second wave of pandemic around. It's better to be on the safe side and buy 7mm Acoustical Absorber online from the reputed shopping portal.
Word of mouth Reference: You should go with word-of-mouth reference before deciding on choosing the brand yourself. If any of your friends or known ones have used this sound absorption or dampening mat of a particular brand, then go with the same without having a question in mind.
Go through customer reviews: Go through the reviews of 7mm acoustical absorber before finalizing anything, as the feedback given for the product give you the idea of whether to go with 7mm acoustical sound absorber
Money-back guarantee: Go for the brand that gives a money-back guarantee to the customer to be assured of getting the money back if the product fails to perform. 7mm acoustical absorber is known for sound absorber
SSL enabled on payment gateway page: Do make sure that the website you have chosen to buy 7mm acoustical absorber has SSL enabled payment gateway page to secure payment processing.
Vibrosolution is one such authentic online shopping portal that helps you buy a 7mm Acoustical Absorber just by sitting at convenience from home. It's all about sound dampening and acoustical sound absorption method that makes the car free from unwanted sound detection due to vibration or unwanted noise coming from outside.